FICTIVE

NET / PORN
Site: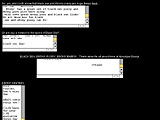 ABSOLUTE EBONY TEXT AREA
Anonymous - New York City based, art, fashion, USA
Site Description:
This site was made from the text of a porn site featuring images of African American women. None of the images or formatting have been retained. Further disjuncture is caused by most of the text appearing in scrolling text boxes. There is an obvious allusion to race relations through the use of the color scheme and reference to piano keys. The implication being that Caucasian (men) are the group for whom the fantasies are intended, and that equality in relations between genders and ethnicities is currently a fantasy. The name of the site is the only part of the text which was altered.
Site Creator:
Anonymous