FICTIVE

NET / PORN
Site: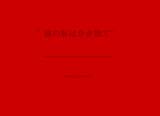 AS YOU WISH
Naoko Nagata - New York City based, costume design, Japan
Site Description:
Makes reference to a traditional Japanese saying.
Site Creator:
NAOKO NAGATA is an avid collector and restorer of 19th and 20th century clothing and lace. She had a long-standing interest in the movement of clothing, the body and the relationship between the two. She has worked with David Dorfman Dance, David Newman, Doug Elkins Dance Company, Bebe Miller, Zvi Gotheiner and Dancers, Jeanette Stoner, Amos Pinhasi, Jeanine Durning, Sara Pearson and Patrik Widrig and Dancers, Cheryln Lavagnino, Janis Brenner, Liz Lerman Dance Exchange, Nina Winthrope, Hetty King, Diversions in the United Kingdom, Mollie O'brien, Nami Yamamoto, Curt Haworth and Karl Anderson among many,many others. She has just finished the corroboration with Lisa Race , Eliss Wood and Bebe Miller for DTW Around Town at the Duke on 42nd Street.
Her background is biochemistry. What changed her life is a long story. Now a days her laboratory is a rehearsal studio.