FICTIVE

NET / PORN
Site: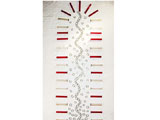 COCK-RING
Virgine Sommet - New York based, art, France
Site Description:
Explores the cultural significance of the item for which the site is named. The site is derived from a physical sculpture work bearing the same title.
Site Creator:
Virginie Sommet is a young artist born in France ,who lived in Paris ten years and decided to live in New York since 1998.

She studied Art in University Paris VIII, in Ecole du Louvre and in Hunter College (exchange Art Program).

Her work is an attempt to inform mainstream society about urban minorities, for example urban tribes which bring her face to face with specific objects-symbols of membership to a given tribe.
Because Awarness is the opposite of ignorance
Ignorance causes fear
Fear leads to intolerance
Knowledge brings about awareness.

Her work include urbanity, sociology and estheticism.

After many group shows and solo shows in Paris, she did groups shows and solo shows in New York at Great Jones studio, at loft 324, at loft 177, two bibliographies in Spoon magazine of may 98 and fall 97, Cosmopolitan 97, and Herbert Von Karajan (aides provence july 98).

Some lectures in Paris at Galerie 170 and in the loft 324 in New York. Some interviews at "Channel Canal+" in france , "Radio france" for the show Inconito and the Channel 57 for NewYork-NewYork in New York. She is also working in Spain where she has some collectors and representatives of her work. She is a real "chameleon" who love "to be where she is not supposed to be" and think New York is a perfect city for that.