FICTIVE

NET / PORN
Site: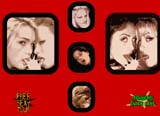 CUM QUEENS
Jennifer Clemente - New York City based, fashion, music, healing, USA
Site Description:
Cum Queens Gallery is an exploration into female sexuality focusing on the female orgasm. Most cultures through the ages have established mythical standards and expectations regarding sexual performance. For women, this has been characterized by screaming, near bionic orgasms in the media and especially pornography. In a society that idealizes and places the orgasm as the standard for sexual success, failing to achieve an orgasm is often perceived as a failure at womanhood itself. As a result, the orgasm for many has been shoved deep into the collective shadow of women, lied about and many times faked. The women who have participated in this site, present an honest look at their feelings about their bodies, their sexual fears and passions, and their ability or inability to achieve an orgasm.
Site Creator:
Jennifer Clemente has worked in fashion and design for the last 8 years. Currently, she is training in the healing arts and hopes to use sound and music in combination with techniques like shamanism, energy movement and therapy to help aid in healing trauma. One of 3 co-founders of artist group Shapeshifter Productions, they are now filming their first movie "The Basement" and working on a new play "The Son and the Moon" which goes up in May at the Pantheon Theatre. It is their belief that life is art and art heals. For more information contact her at Shapeshifterprod@aol.com.
Jennifer Clemente is thrilled to be involved in another Fictive Project.