FICTIVE

NET / PORN
Site: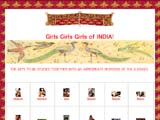 GIRLS GIRLS GIRLS OF INDIA
Anonymous - New York based, fashion, Canada (with Paul Clay)
Site Description:
This site illustrates what it is like to be a girl with an Indian heritage. "GIRLS GIRLS GIRLS OF INDIA"...Picture this title lit up in light bulbs, flashing non-stop, like a peep show. This site touches upon the various aspects of my life growing-up and of my becoming who I am today. It moves through my sexual experiences and hang-ups and ties them to pornographic images. This site mixes texts illustating my everyday observations with images of nude women...it bares all.
Site Creator:
Anonymous (Canada) Born in Guyana, South America, of Indian decent. Grew-up in Canada and moved to New York at the age of 23. Works in the field of Fashion as a Head Designer for a major junior's label.