FICTIVE

NET / PORN
Site: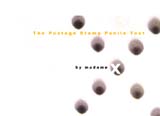 HOT LICKS
Madam X - New York City based, art, Asian American/Philippines
Site Description:
This work is a variation of 3the Postage Stamp Penile Test,2 a patented low tech measuring system for male sexual muscle behavior that determines whether or not the patient has erections as he sleeps.

It explores one of the many patented 3innovations2 that contributes to the evolution of sexual attitudes and practices.

Ironically, the innovation of self adhesive stamps pose a problem to this technique.It is a fine example of how one idea abolishes another unintentionally for the changing needs of society.

The concept of patents address behavioral, economic attitudes and practices in society and its commercialization. 3Patent systems, in return for an inventors agreement to create a permanent and public file explaining their discovery, would be granted exclusive control over manufacturing, sale, and commercial exploitation for a period of 17 years.2 From 3 American Sex Machines- the Hidden History of Sex at the U.S. Patent Office2 by Hoag Levins.

I also chose to work under a Pseudo name (Madame X) for this project as it reflects a voyeur anonymity in a twisted manner, like being a closet exhibitionist, a schizophrenic voyeur, secretly watching himself secretly watching.
Site Creator:
2000 - 2001

Madam X

Begins co-curating, coordinating, and participating in d1Art projects, a multidisciplinary art group seeking alternative venues for roaming exhibitions
1990 - 2001 Freelance graphic designer specializing in developing graphic visual systems
1985 Ð 87 Graduates Fashion Institute of Technology with major in Graphic Design: Agency honors program 1986-87
1985 Moves to New York City
1984 Ð 85 Junior College of Albany with major in Graphic Design: Phi Theta Kappa 1984
1966 - 84 Family moves around and settles in various spots: Virginia [ 2 yrs ] - Philippines [ 2 yrs ] - NJ [ 8 yrs ] - Ohio [ 1 yr ] - Upstate NY [ 5 yrs ]
1964 Born in Manila, Philippines

Exhibitions

2001
d1Art projects
Grand Street Ferry Park / Brooklyn, NY
Pier 40 / Hudson River Park Day / NY, NY
Remote Lounge / Bowery / NY, NY
2000 d1Art projects
the Front Room / Brooklyn, NY
R & B Studio / Brooklyn, NY
Bonsai 232 / NY, NY
East River Park / Fireboat House & Paddleboat Courts / NY, NY
Pier 40 / Hudson River Park Day / NY, NY
Fun video club / Chinatown / NY, NY
the Front Room / Brooklyn, NY


1999 Fractured Curtain: Japan Metro Project
Digital posters for inclusion in roaming group in Japan metro stations

1998
RPM. Vibrant Gallery, New York, Kinetic installation
Wheels, Fire Island, New York, Temporal kinetic outdoor installation