FICTIVE

NET / PORN
Site: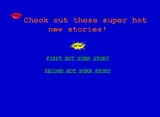 HOT PORN STORIES
Eduardo Difarnecio - New York based, art, Venezuela
Site Description:
Actual porn stories, alphabetized, with any repetitions dropped. The gender based content of the stories still shows through in the word lists.
Site Creator:
Eduardo Difarnecio uses simple basic forms; he starts with an idea initiating a process that obeys certain rules, and that determines the form by playing itself out.