FICTIVE

NET / PORN
Site: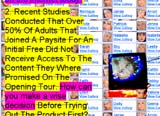 I WANT DEJA ON PLASTIC is no longer available
Margaret Penney - New York City based, Art, Writing, USA
Site Description:
I Want DEJA on Plastic comments on issues surrounding individual personal identity in the 'consumeable bit' world of online pornography.
Site Creator:
Margaret Penney was born in Beirut, Lebanon, spent her formative years in North Africa, and currently switches domiciles every year or so. She is a net.artist, creative writer, and redhead. She sees the web as one big ball of visual and narrative threads, and she likes to sew/sow.
http://www.dream7.com
http://www.newcoder.com