FICTIVE

NET / PORN
Site: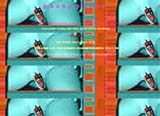 IN-COMING CALLS
Elena Bajo - New York City based, fashion, art, Spain
Site Description:
I have built a porno website offering the possibility of being part of a network of people getting sexual pleasure out of other peopleŐs interaction using a cellular phone that receives in-coming calls to be stimulated with direct vibration of the phone in the vagina and also stimulates the person who wishes to look "voyeur" the sexual activity through a web cam. It mocks the way porno is offered and at the same time explores sexual/private issues in public getting orgasms with the help of thousands of unknown people though internet, as well as exposing the most intimate parts of your life/body in public through the web cam . It is offered TOTALLY FREE you donŐt have to pay and it is available 24h a day . It is complemented though with the "sale" of items related to the activity such as a special ergonomically shaped softed material PUSSYPHONE and special "PUSSYPHONE PANTIES to hold the PUSSYphone for outgoing activities such as parties and social gatherings.
Site Creator:
ELENA BAJO IS AN ARTIST AND DESIGNER, BORN IN SPAIN, LIVING AND WORKING IN NEW YORK. SHE HAS BEEN EXPLORING FOR FOUR YEARS ISSUES OF communication, identity and memory, FOCUSED IN THE RELATIONSHIP BETWEEN THE INDIVIDUAL AND THE COLLECTIVE IN THE NEW ECONOMY USING BODY, SPACE AND CLOTHES AS THE INTERFACE. Her work has been expressed through performances, video, photography and the Net.

"My work is influenced by several disciplines such as Social Psychology, Theatre, Fashion, Design, Sciences, Internet and the New Digital Technologies/Aesthetics web culture, the everyday Spanish-American experience in the urban context of New York, the contrasting socio-political-cultural-economical circumstances in thirld world countries compared to developed ones and the effect on peopleŐs lives, environmental/human & animal rights issues.

My performances are based on the work of artists from the sixties and seventies, but I am incorporating new elements such as new technology, popular culture, Internet, and the appropriation from the performance history As an accepted contemporary art vocabulary.

I can c ite as a major influence Vito Acconci for his time- based performance work that is socially placed, Matthew BarneyŐs work dealing with fashion and performance, Gregg LinŐs approach to architecture trough the new cyber-mediated space, and Nicholas Bourriaud and his "relational aesthetics" where "THE ART PROCESS BECOMES A SPACE FOR CONNECTEDNESS AND THE SOCIAL REALM BECOMES A CONTINUUM FOR INTER-ART-ION .