FICTIVE

NET / PORN
Site: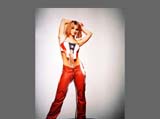 NUDE CELEB TEEN
Coralee Lynn Rose - New York City based, combined Media art, USA
Site Description:
i'm interested in merging genders, and do it with this piece by using a female icon that's known throughout mainstream america as the foundation for an abnormal mode of appearance, but one that has been designated by mass-market publications as the "standard" perception of the female image. This piece is related to the physical artwork from which it derives - one in a series of seven titled "What She Always Wanted" 2001.
Site Creator:
Coralee Lynn Rose is currently a candidate for a Masters of Fine Art degree from Hunter College. She is one in a group of emerging artists in the new york art scene. Rose is best known for her recent photographic project of reclaiming the female image through the documentation of a prostitute, a woman who reflects and further distorts the commercial image but still fits into the prescribed mold.