FICTIVE

NET / PORN
Site: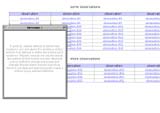 RAPE PORN
Cathy Winkler - Anthropology, USA
Site Description:
Text about an actual rape attack treated in a similar way to anthropological participant observation.
Site Creator:
Cathy Winkler
"The Context of Meanings behind Rape Trauma" by Cathy Winkler with Renata McMullen and Kate Wininger. In Many Mirrors: Body Image and Social Relations. ed. Nicole Sault. New Brunswick, N.J.: Rutgers University Press, 1994.


TECHNOLOGICAL CHANGE FAVORS COMMUNITY POWER AND AUTHORITY FOR WOMEN A STUDY OF THE EFFECTS OF THE CORN MILL (MOLINO) ON A MEXICAN ARTISAN COMMUNITY by Cathy Winkler, Department of Anthropology, Georgia State University Working Paper 155, December 1987

Abstract: A historical examination of a rural Mexican artisan community reveals that the introduction of new technology can favor and enhance women's position in terms of economic control and community power. Whereas males' occupations as agriculturalists in a mountainous region and as producers of hand-manufactured lacquer works are not amenable to technological innovations, for women's occupations the introduction of plumbing, electricity, and especially the corn mill (molino) domestically reduced their labor time and workload; this allowed them to redirect their efforts into social and economic power in the community, and for some, into positions of authority as artists and heads of lacquer workshops. In the artisan domain of this town, these latter positions are on a par with those of men in authority.