FICTIVE

NET / PORN
Site: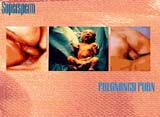 SUPERSPERM PREGNANCY PORN
Miriam Katzeff - New York City based, art, USA
Site Description:
the site focuses on heterosexual acts that defy the biological intention of sex (making babies) splicing closeup altered photographs of anal sex, cum shots, and sex toys with images of childbirth, fertilization or breast feeding to jolt the viewer. In American society, people do not wait until marriage to have sex, people have sex in serious or casual relationships. Most people try to avoid pregnancy; besides sexually transmitted diseases, pregancy is the least desired result of sex. People take for granted the fact that the purpose of sex is to create life. At first, the combination of images might be disturbing, but the intention is to remind the viewer of how far society has come from biology. The last page uses multiple conflicted images and text to climax and confuse the viewer.
Site Creator:


Miriam Katzeff

. miriam can't wait to lose her virginity.
contact miriam at: rediwip1@aol.com