FICTIVE

NET / PORN
Site: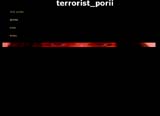 terrorist_porn
Chris Jordan- New York City based, light art, USA
Site Description:
Majed Moqed, terrorist on flight 77 which hit the WTC on September 11th, patroned an adult bookstore in Laurel, Maryland three times in the month proceeding the attack.

This site explores questions of interface/porn/terrorism, and how fundamentalist hatred leads to the breakdown of individual voices and effective dialogue.
Site Creator:
Chris has been creating interactive artowork and light sculpture for the past ten years, constantly tweeking the loop between people and machines to address the political and social issues surrounding the computer.
www.cjaxx.com