FICTIVE

NET / PORN
Site: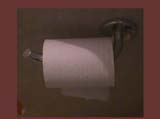 TOILET CAM
Lewis Stein - New York City based, stuff, USA
Site Description:
still image of cam focused on the toilet paper holder (often, but not always, stocked with toilet paper) in the artist's New York City household.
Site Creator:


Lewis Stein.

Born Macao mid 20th Century, currently living in New York, Beijing, Bangkok and Tokyo.
One Person Shows

1969 Nicholas Wilder Gallery, Los Angeles
David Whitney Gallery, New York
1970 Galerie Ricke, Cologne, West Germany
David Whitney Gallery, New York
1971 David Whitney Gallery, New York
1972 Galerie Ricke, Cologne, West Germany
1974 N & N Gallery, New York
1979 Artists's Space, New York - installation
1983 School of Visual Arts Museum, New York
1985 Postmasters Gallery, New York
1986 Postmasters Gallery, New York
1989 Paula Allen Gallery, New York
1990 Paula Allen Gallery, New York
1992 Galerie Charchut & Werth, Dusseldorf, Germany

Group Shows

1969 Whitney Annual, Whitney Museum, New York
"Young Artists From the Collection of Charles Cowles", Aldrich
Museum of
Contemporary Art, Ridgefield, CT
"Eine Tendenz Zeitgenossischer Malerei", Kolnscher Kunstverein,
cologne,
West Germany
1970 "Zeichnugen Amerikanischer Kunstler", Galerie Ricke, Cologne, West
Germany
"Klischee - Antiklischee", Neue Galerie der Stadt, Acchen, West
Germany
1972 Lo Guidice Gallery, New York
"Programm V - Skulpturen-Bilder-Zeichnungen", Galerie Ricke,
Cologne,
West Germany
1973 "Querschnitt ', Galerie Ricke, Cologne, West Germany
1976 Willard Gallery, New York
Galerie Ricke, Cologne, West Germany
"A Month Of Sundays", P.S. 1, L.I.C., New York
1979 Marion Goodman/Multiples Gallery, New York
Schema Gallery, Florence, Italy
1980 Cucalon Gallery, New York
Charles Cowles Gallery, New York
1981 "Eight Contemporary Photographers", Art Gallery, University of South
Florida, Tampa, Florida (curated by Michael Kline)
"Artists and Furniture", Magnuson Lee Gallery, Boston, MA
1986 "Spiritual America", curated by Collins and Milazzo, CEPA Gallery,
Buffalo,
NY
"Televisions's Impact on Contemporary Art", Queens Museum, New
York
1987 "Surveillance", LACE, Los Angeles, CA
Postmasters Gallery, New York
Annina Nosei Gallery, New York
1988 "Female (Re)production", curated by Marilu Knode, White Columns
Gallery,
New York
Milford Gallery, New York (May)
"Acceptable Entertainment", curated by Paul Laster and Renee
Riccardo,
organized by Independent Curators Inc., New York
Alberta College of Art Gallery, Calgary, Canada,
10/6/88-11/3/88
Los Angeles Municipal Art Gallery, Los Angeles, CA,
3/21/89-4/30/89
Everson Museum of Art, Syracuse, NY, 3/2/90-4/15/90
Milford Gallery, New York (November)
1989 Griffen McGear Gallery, New York
Emily Harvey Gallery, New York
1990 "Against Interpretation (Towards a Non-Representational Photography)",
curated by Stephen Frailey, CEPA Gallery, Buffalo, NY
Paula Allen Gallery, New York
"Critical Realism", Perspektief Gallery, Rotterdam, Netherland
"California A-Z And Return", The Butler Institute of American Art,
Youngstown, OH
1991 Galerie Ghislave, Paris, France
1992 "Oltrefoto", Museo di Fotografia, Brescia, Italy
"Studio", Dooley Le Cappellaine Gallery, New York
"E.S.P." , Dooley Le Cappellaine Gallery, New York
"The Red Light Show", curated by Jack Jaeger, Casco Foundation,
Utrecht, Netherland
"Surveillance", curated by Karen Holtzman, Nancy Drysdale Gallery,
Washington, D.C.
1993 Kubinsky Gallery, New York
1995 Eugenia Cucalon Gallery, New York
1999 "Heroines & Heroes II", curated by Willoughby Sharp, The Howland
Cultural Center, Beacon, New York
2000 "Dystopia and Identity in The Age of Global Communications", curated
by Cristine Wang, Tribes Gallery, New York

collections

Neue Galerie der Stadt, Aachen, Germany
Philip Johnson
Charles Cowles
Ludwig Collection, Cologne, Germany
Greenville County Museum of Art, Greenville, South Carolina
Newport Harbor Art Museum, Newport Beach, California
Dakis Jannou, Greece
New Museum, New York
Jean-Charles Lignel, France
University Art Museum, Berkeley, California
Yale Art Museum, New Haven, Connecticut

bibliography

1968 Art In America, November
1969 Kunst Market, Koln, catalog
1970 Art International, January, (photo)
Art International, February, C. Ratcliff
Art News, February
Studio International, June, (photo)
Art & Artists, November, (photo)
Downs, December, (photo)
Art Around, catalog
Klischee - Antiklischee, Neue Galerie der Stadt, Aachen,
catalog
1971 Art International, February, C. Ratcliff
Art News, February
1972 Der Bestand, Neue Galerie der Stadt, Aachen, catalog
1974 Art in America, October
1985 Art Index, October
1986 Televison's Impact on Contemporary Art, The Queens Museum, text by
Marc H Miller, catalog
1987 Art in America, April
Aperture, Spring, number 106
Surveillance, Los Angeles Contemporary Exhibitions, catalog
1988 Acceptable Entertainment, Independent Curators Inc., text by Andy
Grunbery, guest curators Paul Laster and Renee
Riccardo, catalog
Pratt Journal of Architecture, volume 2, "Form; Being;
Absence", catalog
1989 Arts Magazine, May
1990 Zoom Magazine, 150 Anniversaire, issue celebrating 150 years of
photography
Artforum, April
Arts, April
1992 Kunstforum, #118, Heinz-Norbert Jocks