FICTIVE

NET / PORN
Site: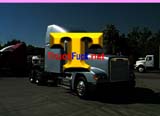 TRUCK FUCK
Claudio Concato - New York City based, fashion, Italy
Site Description:
Based on trucker fetish, mixed with the typical promotional language used by hotels, travel agencies and resorts. Comparing the idea of porn with the escape promised through vacation.
Site Creator:
Claudio Concato is a fashion consultant and researcher based in New York for the last nine years. His work consits in creating outfits based on thrift shop and flea market findings, yet that look totally contemporary, and reflect or anticipate fashion trends.