FICTIVE

NET / PORN
Site: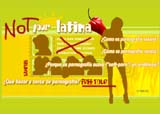 YOUR LATINA
Natalia Deeb-Sossa - Chapel Hill based, sociology, Colombia
Site Description:
Critiques the negative aspects of porn from a sociological and feminist perspective and examines links between pornography (both hard and soft porn) and men's sexual violence against women.
Site Creator:
Natalia Deeb-Sossa is a writer, and activist from Bogota, Colombia. She is currently a doctoral student in the Sociology Department at the University of North Carolina at Chapel Hill, focusing on the sociology of inequality, particularly gender inequality. She is also completing a Master's degree in the Department of Statistics. She has writen for Feminista! and the upcoming Readings in a Gendered Context.